Thursday, 24 June 2021
VIOFF: A Golden Journey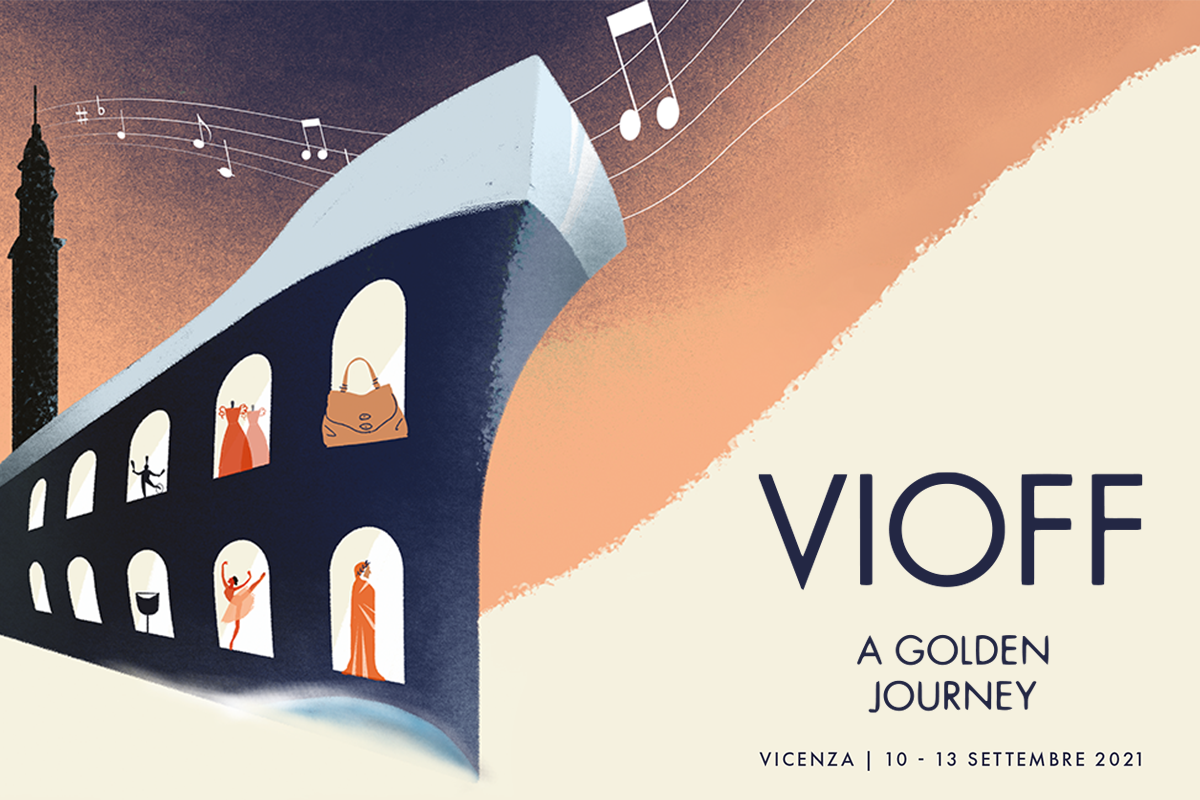 The countdown has begun for the new edition of VIOFF, the Fuori Fiera di Vicenzaoro, born from the synergy between the municipal administration and the Italian Exhibition Group. This year it will be held from 10 to 13 September 2021, and it will celebrate the theme of travel, a "golden journey" as an emotional discovery and experience through culture, figurative arts, circus arts, music, food & wine, but also crafts and business.
The confirmed appointments are multiple: from Vicenza in Festival with the great names of Italian music to CITARTS with extraordinarily talented artists from international musicals, televised dance troupes, and Cirque du Soleil, to Zanellato's Women's Voices project.
And again VIWINE with a food and wine journey in collaboration with bars, restaurants, ice cream parlors, and CNA with the now traditional "Handicraft & Design" event.
There are also many events being defined thanks to Coldiretti, Naturalis Labor, and Vicenzaè.
"Until a few years ago - recalls the Mayor of Vicenza, Francesco Rucco - VIOFF did not exist. It was born in 2018 from an intuition our administration shared with the Fair, enhancing the Vicenza brand, its identity, and its talents. And it immediately becomes a successful event, eagerly awaited by both the Vicentini and the loyal guests of Vicenzaoro. Also, for this reason, for having been able to create an event that is already a tradition, I am particularly proud to propose the "A Golden Journey" edition in this extraordinary season, of great ferment linked to the restart."
"Once again, with VIOFF - A Golden Journey, Vicenza will experience an event full of unforgettable events and capable of making the many partners involved express their best potential. A precious journey for all the spectators who will participate among music, shows, workshops, entertainment, food and wine, art, and economic development: our city has talent, and the Fuori Fiera di Vicenzaoro wants to enhance it, considering the many peculiarities that make our territory attractive " - says Silvio Giovine, Councilor for Productive Activities and Tourism of the Municipality of Vicenza - Ambitious and visionary also in this edition we will leap in quality, by bringing together companies of absolute depth and representatives of the entrepreneurial genius of Vicenza in the world. My thanks go to all those who have put together the best energy to make VIOFF an event of great prestige ".
"There is a lot of space for a culture that dialogues with the company of excellence in this edition of VIOFF - adds Simona Siotto, Councilor for Culture of the Municipality of Vicenza - and this is significant for our city which is preparing to apply for the Italian Capital of Culture 2024. As demonstrated by the forces deployed with VIOFF, Vicenza has all the credentials to aspire to this recognition because culture means territory, business, and roots here. And our task is to enhance all this and make it known to the world ".
For Marco Carniello, IEG Group Brand Director Jewellery & Fashion, "the journey is discovery, encounter, growth. A theme very dear to Italian Exhibition Group and, at this particular moment, to all of us. Vicenzaoro September will be the first international event of the goldsmith sector in Europe that starts again in attendance. With IEG, companies, associations, economic categories, the entire territory turn the spotlight on the city of Vicenza, a world destination for jewellery, while from the pavilions of the fair, the hub of the business, Italian jewellery is exported and appreciated in all continents in a continuous exchange of creativity, knowledge and unique experiences ".